Sparks (01/26/2020)
Sparks have been adjusted to add more variation (using curl force noise). However, the positional data from the car can't be fed to the spark system without joints in the car. Sparks are on hold while I do R&D on how to properly import the animated car.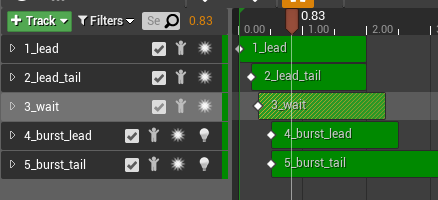 The fireworks are created as a series of emitters within a Niagara system. The first particle emitter emits one nonrendered particle that determines the direction of the overall firework setup. The second emitter is the particle trail that emits from the first particle emitter.

The third emitter is a nonrendered delay particle that allows for a slight delay between when the firework reaches the top and when the burst starts. The fourth emitter is the burst itself, while the fifth emitter are the particle trails that each of the particles from the fourth emitter leave behind.